Corte al Castello is located in the heart of Magenta, within the perimeter of the area historically known as the Castle. This important part of the city, time ago characterized by a medieval courtyard, is the most vibrant zone, while ensuring discretion, silence and safety.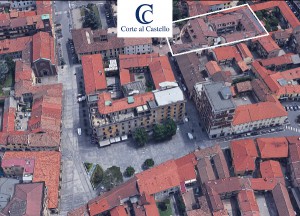 The residential project of Palladium Group emphasizes these features and gives life to a Court, so offering an elegant and reserved way of living able to satisfy the most sophisticated people.
The architectural solutions adopted, along with the systems designed according to energy saving and the lovely views of the flowered courtyard, contribute to a new living space for the whole family.
The technical choices adopted for the construction of Corte al Castello have been designed to ensure compliance with energy performance, imposed by law, while ensuring the best acoustic and thermal comfort in each apartment. The central heating system has been equipped with an independent consumption reading system for each apartment. The construction materials used have been selected to ensure high quality and durability. The standard equipment for each apartment, along with the technical arrangements, are to ensure the highest living comfort.